All You Need To Know About Online Video Poker
Online video poker is one of the world's most popular online casino games and is available right here, right now at Gaming Club online casino. Powered by the online gaming software giant, Microgaming, we supply the latest titles and gambling technology to bring you a thrilling array of video poker games. Whether you enjoy video poker that more relies on chance or strategy, you'll find the games you're looking for as you play to win big.

Online video poker is an easy game to play and is perfect for both experienced and novice poker players. Simply check out the rules and tips below for more information on how to play online video poker at the Gaming Club online casino. Join a new generation of video poker fans (or revisit your old favourite online gambling game) as you learn about the different types of poker and browse our selection.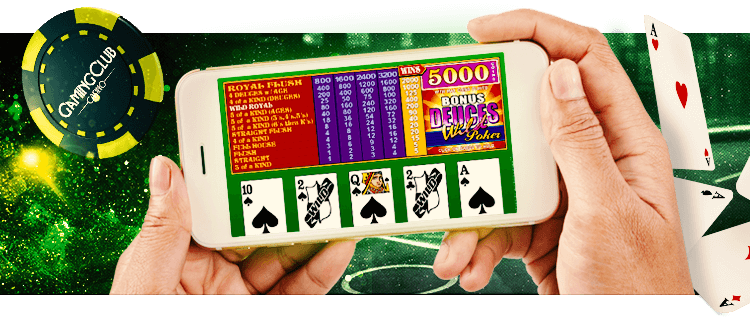 Understanding Basic Video Poker Rules
Video poker games are based on the traditional poker five-card structure, although they are usually only paired down to two stages: deal and draw. Online games also usually eliminate the requirement to beat other players or the dealer. All you need to do is a place a bet.
Once you've selected your bet, you typically hit "Play". At this stage, your five cards will appear. If you get a winning hand, this combination of cards will be held. If you want to hold any other cards, you'll generally click them and then "Draw" new cards. Your final hand will be assessed for a win. For quick strategy, the smallest potential win is a usually a pair of jacks. Three of a kind, four of a kind, full house, straight, flush, and straight flush are the next winning hands. A royal flush is the max win, which may lead to a massive jackpot.
With the variety of video poker titles available at Gaming Club, not every game will include the same rules and gameplay. To best understand more in-depth rules of video poker, please refer to the individual games within the casino software, found with each game title in our catalogue.
A Brief Guide to Video Poker History
The History of Video Poker can be traced back to the mid 1970's with the advent of the PC age. Back then Video Poker Games consisted of nothing more than simple monitors hooked up to CPU's (central processing units) and looked nothing like the Online Video Poker games available today.
During the 80's the leap forward in computer technology helped to create a growth in the Video Poker market in Las Vegas. This was due to the fact that better Video Poker games were now available that offered poker players a less pressurised poker environment to play in.
During the 90's (and continuing until today) the rise of the internet has introduced a whole new generation of Video Poker Players to the game. Today, video poker contains much of the same structure and rules, but the formatting and graphics are enhanced. Microgaming software makes it possible for us to offer slick user-interfaces and clear how-to tutorials to practice before you play.
Enjoy a Wide Selection of Video Poker Games
Video online poker is an exciting, fast-paced game to play, regardless of your level of skill. Drawing on traditional poker rules, these games make it easy to become a card shark after a little practice. And when you play at Gaming Club, you can be assured you will be playing in a fair, responsible, and secure online gaming environment.
We also make sure to provide you with the highest quality video poker games on the market. There are currently many variations of the game of video poker, but the most popular video poker games at Gaming Club online casino are:
Deuces Wild Video Poker
Bonus Video Poker
Double Bonus Video Poker
Double, Double Bonus Video Poker
Which online video poker game will you choose? Will you rake in the bonuses? Try your luck at poker as you deal and draw to see what the future holds.