Grab the Best Online Blackjack Opportunities
You have probably heard the Latin expression carpe diem. It is just as famous as its translation of seize the day. Say what you like, you cannot fault the ancient Romans' attitude to life. It was all about seizing the opportunity to do the most you can, which is what online Blackjack is all about!
Gaming Club, powered by Microgaming, brings you premium casino games that offer you all the action, opportunities, and unrivalled thrills of 21. Choose from a variety of styles, keep your gaming classic or enhance it with bonus features, and do your best to beat the dealer to win real money.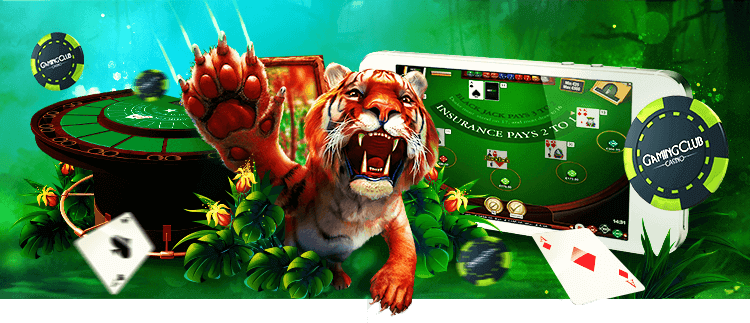 Move Over, Lady Luck
Lady Luck, the personification of chance, can be a player's best friend. However, she is known for being capricious – smiling at you is no guarantee she will be in a good mood tomorrow.
Play online or mobile casino favourites such as slots or Roulette, and she could have her wicked way with you. However, play Blackjack, and suddenly she ain't all that. You see, the secret to the intensity of the worlds most popular card game is that it really does offer you opportunities to swing things your way. Using blackjack strategy will give Lady Luck a run for her money, so seize those opportunities, and those payouts could be yours.
A Casino Game Bouquet
Gaming Club is serious about offering players luxurious online casino entertainment, so you get nothing less than a bouquet of beautiful Blackjack games. The iconic forms of the game offer classic action, while other editions let you put a new twist on the action.
The 2 most common foundations of the top titles you can play with us are 21's European and American variants. The former is friendlier to players, while the latter turns up the heat with the possibility of an early elimination. The European variant does this by dealing the dealer's second card after the player's move, while the American's dealer gets 2 cards to start, along with the possibility of checking for a natural winning hand.
Try your hand at a variety of titles based on the European variant, such as those part of Microgaming's Gold series, and see how you fare when you play games based on the American variant as played in Atlantic City or Las Vegas.
Quick Introduction to Play
Regardless of when the dealer gets the second card, the basic steps you need to follow when playing online Blackjack do not change. The important thing to remember is that your is a hand of greater value than the dealer's, but worth no more than 21 points.
Being dealt a winning hand right at the start is a possibility, but it is one you cannot expect to see often. There is a greater chance you will receive a hand worth less than the desired goal, but that is not the end of the road for you. This is where Lady Luck needs to start getting worried.
You should always take the dealer's single face-up card into account. However, when deciding on what move to make, you need to focus on what is in your hand. Weigh up carefully whether improving your total by hitting puts you at risk of busting. Remember, you can also play your hand as it, you can do the same but double your bet first, and you can split certain hands into the bases of 2 new hands that you can play separately.
Choose carefully, because once you have made your move, the Blackjack dealer's full hand will be revealed, and that is when the winner is determined. Experience the action for yourself at Gaming Club online casino.