Play Video Poker at Gaming Club Casino
Video Poker casino games made their entry in the 1970s, and today stand as one of the most popular game choices here at Gaming Club online casino New Zealand. For players who enjoy games that combine skill, like Blackjack, for example, luck, like that which pokies relies on, a low house edge, and the chance to win big, there is nothing like Video Poker!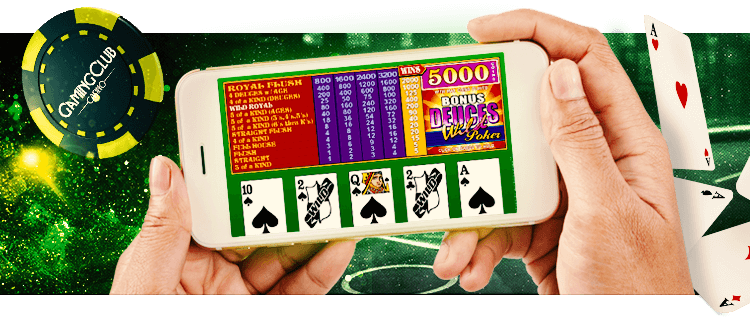 Video Poker Casino Rules
When you play Video Poker at our casino online, you will be following very simple rules: you will play between 1 and 5 coins, the Video Poker machine will deal out 5 cards, and you will decide which to Hold and which to Discard. The game software will then replace the cards you discarded, and you will receive a payout according to the Poker-ranked value of your hand.
Enjoy an Advantage
You have no doubt heard of the saying that the house always has the advantage when it comes to online gambling, but Video Poker at Gaming Club is the exception to that rule. Study the paytables, and play your game properly, and you will find that you are able to enjoy the advantage instead! Some paytables can return more than 100% if you factor in the great incentives to play that Gaming Club Casino provides, like cash back, demo play and other bonuses.
The History of Video Poker
Although Video Poker does not have as long a history as, say, the online Blackjack Gaming Club provides does, it is nonetheless an interesting one. It first came to prominence in the middle of the 1970s, when the PC age can be said to have begun.
In the same way that online pokies have enjoyed a huge transformation since their debut, Video Poker back then was nothing more than basic monitors hooked up to central processing units, or CPUs, and looked nothing like the state-of-the-art games you will be enjoying at Gaming Club Casino New Zealand.
The massive leap forward that computer technology took in the 1980s helped to create growth in the Video Poker market in Las Vegas, thanks to the fact that the better games were available for players to enjoy in a far less pressurised environment.
During the 1990s, and continuing until the present day, the rise of the internet has introduced not just a whole new generation of Video Poker players to the game, but Blackjack online players and those who enjoy other top entertainment that was previously only available at land-based casinos too.
A Variety of Video Poker
Gaming Club Casino currently has a range of variations of Video Poker games for you to enjoy, but the most popular titles are:
Jacks or Better Video Poker: This was, in fact, the very first Video Poker variant to be produced, which is why it so closely resembles the original Draw Poker game.
Deuces Wild Video Poker: This is a Draw Poker game, and uses the standard 52-card pack, but each of the 2-point cards, or deuces, can stand in for any other card chosen by the player who holds them.
Bonus Video Poker: This is a Video Poker game which is based on Jacks or Better but offers a higher payout percentage if you can create a 4 of a Kind.
Start Winning with Gaming Club
Don't forget to try Video Poker on mobile, this way you will never have to miss out on the action. Open your Gaming Club account today and get started winning with the great online casino games that we offer!