Embark on a Mobile Slots quest with Avalon II
The Quest for the Grail is the sequel to Microgaming's first Avalon game that took players to the mysterious Arthurian island. The second instalment of the game carries on the first game's tale, and players will once again join Merlin, King Arthur, Guinevere and other familiar characters on a mysterious quest that features big rewards and magical jackpot wins. This online slots game offers players hours of entertainment and has been described as the most visually stunning online casino game of all time. Immerse yourself in an epic adventure and hit the jackpot with 243 Ways to Win!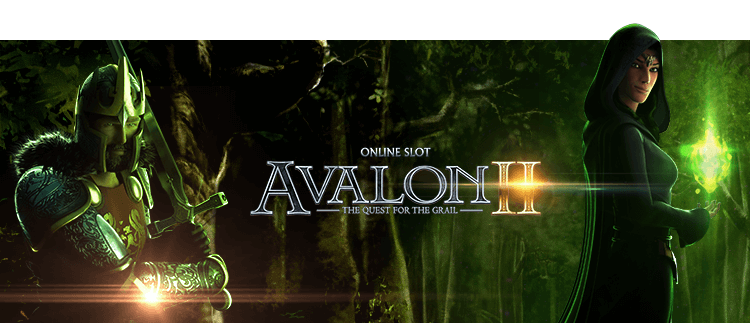 An epic Online Slots adventure
Microgaming is renowned for creating exceptional online casino games and Avalon II took 2 years to complete. The attention to detail and exquisite animations are testament to the time that went into the making of this game and the HD graphics in the cinematic sequences, bonus features and general game play are absolutely breath taking. As the game progresses and the storyline unfolds players will be treated to an online slots adventure unlike anything ever been seen before. Avalon II is an exceptional casino game and players who enter this mythical Arthurian island won't be disappointed.
8 Incredible Bonus Games
Avalon II not only offers 243 Ways to Win, it also features an incredible 8 bonus games! In the Whispering Woods and Dusky Moors online slots players must choose a shield or match a picture to reveal a prize and in the Isle of Avalon a Wheel of Fortune is spun to reveal a reward. In Forest Falls players are rewarded with expanding and Trailing Wilds and 20 Free spins and in the mysterious Misty Vale an additional Wild will quadruple winnings on 15 Free Spins. Players can also claim 20 Free Spins and up to 6X multipliers in Morgan's Keep, re-forge the mighty sword of Excalibur in the Lake of Legend and go head to head with the Black Knight in the Hall of Shadows to reveal a reward. This online casino game features massive jackpots and the chance to win real rewards in a mythical, magical place!